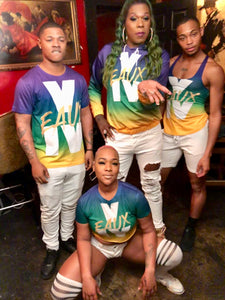 Big Freedia At One Eyed Jack's For Mardi Gras!
Another parade season has passed and it was definitely one for the books!
The Blairisms creative team styled New Orleans own Queen of Bounce, Big Freedia and her crew for their Mardi Gras shows at One Eyed Jack's, in the French Quarter. The crew slayed their performances in tank tops, crop tops, short shorts and with a whole lotta, whole lotta ass!
Special guests Issa Rae and Lena Waithe blessed the building and got their shake on over the weekend, plus hundreds of shakers from all over, some of whom were lucky or brave enough to get on stage and shake for the world to see.
Founder and Creative Director, Blair Dottin-Haley said "We wanted to send the message of the importance of both protest and party." And that's exactly what each one of them gave!! The spirit of the ancestors came down and blessed the shake that went down that night.
For the Saturday showing of shakedown, Freedia hit the stage in a red, Black and green RESIST FIST gradient top, that matched her festive green tresses. Each shaker in the crew bounced in bright red crops, tanks and t's from the RESISTANCE collection, while DJ Juan Jordan, kept it cool in the back in Black.
The show was a powerful display of Black excellence, and a nod to everyone out there breaking down barriers and shattering expectations. Freedia has been at the forefront of the New Orleans takeover of Hip-Hop, R&B, and mainstream pop culture. Performing back-to-back, sold-out shows at one of the French Quarter's most popular venues is not just historic, but it's also a show of resistance to every venue, festival and tour that refuses to book and promote Black, LGBTQ+ performers.
For the second sold-out show on Sunday night, Freedia and the crew were white hot and ready to party for Mardi Gras! In New Orleans, you have the represent the area right or these people will drag you in the streets. The crew got the crowd ready for Mardi Gras in new pieces from the New Orleans Stand Up collection, including the Mardi Gras "V Eaux IV" hoodie with hot white shorts and unitards, and shredded jeans, OH MY!
With Mardi Gras season finally behind us we can all take a deep breath and be thankful that we get to be resistant, excellent Black people who can shake down and have a good time.
It's called balance, so L'aissez les bon temps rouler.
---