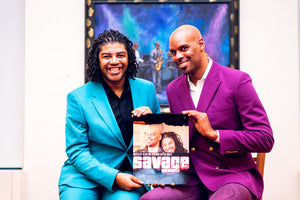 #BLAIRISMS Brings the #SAVAGECHATSERIES to Wilmington Public Library
The #BLAIRISMS and the Wilmington Public Library are excited to announce a new partnership that will bring the award-winning #SAVAGECHATSERIES live to the Wilmington Library. The collaboration will continue the library's initiative to create engaging and interactive experiences that celebrate the change-makers of culture and society. The series will be free and open to the public as well as streamed online.
The #BLAIRISMS started the digital talk show, the #SAVAGECHATSERIES, during the 2020 pandemic with the goal of uplifting the stories of those who are affectionately referred to as "Savages of the Culture". The show was deemed a gift to the culture and welcomed over 450 guests in its first 3 seasons available to stream @the.blairisms on Instagram. Many of the #SAVAGEVETERANS have also been guests of the Wilmington Library's "Voices of Power" Series, including icons, such as veteran White House correspondent April Ryan, and Charnele Brown from A Different World, the most viral reunion of 2022. Friends of the library, Darrin Henson and Kenny Lattimore, have also been guests of the multi-award winning series.
The collaboration will begin this Fall, and the lineup is expected to be announced very soon. "You can expect the same caliber and range of guest that the #SAVAGECHATSERIES has always sought to bring to our audiences" said Blair Dottin-Haley, co-creator and co-host of the #SAVAGECHATSERIES.  While the team is being tight-lipped about the coming guests, they are positive they will continue to bring icons to Wilmington for in-depth and personal conversations. "We hope the series will encourage more people to come to the library, engage with our community and learn from all of the guests" said Jamar Rahming, Executive Director of the Wilmington Library. Rahming created the Voices of Power Series, which has recently welcomed esteemed guests such as Lynn Whitfield, Tommy Davidson, and Jenifer Lewis.
Audiences can look forward to seeing the #SAVAGECHATSERIES for free at the historic downtown Wilmington Library and online. Anyone interested in attending the live series is welcome, as there is no registration or ticketing required. Be sure to get there early because seating is limited and on a first come, first serve basis.
For more information about the #BLAIRISMS and the #SAVAGECHATSERIES, click here.
For more information about the Wilmington Public Library and other upcoming events, click here.
---