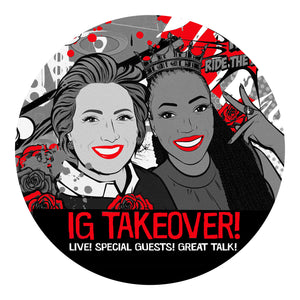 #BLAIRISMS & ERIKA ALEXANDER TO TAKE OVER HILLARY CLINTON'S INSTAGRAM
#BrandActivists Blair and Brandon Dottin-Haley of the #BLAIRISMS will join actress/producer/activist Erika Alexander for a live interview as she takes over former Presidential candidate, Hillary Clinton's Instagram account on Thursday, August 6, 2020. Erika Alexander served as a ride-or-die surrogate for HRC during the last election cycle. The two have had a close relationship since, which led to Clinton personally selecting Erika to take over her Instagram for a day to promote Black issues. 
The former Secretary of State, Senator and First Lady will be turning the attention of her 4.7 million Instagram followers to Erika, who recently co-produced John Lewis: Good Trouble, a documentary about civil rights icon, John Lewis. Alexander co-manages Color Farm Media with Ben Arnon.
Taking over HRC's IG will give Erika Alexander access to an audience that most Black women never have the ability to engage. Erika is taking her opportunity even further by offering the two Black, gay activists the same access. Brandon says "Without this takeover, it's likely that we would never have had an opportunity to reach millions of people and we are just so grateful that Erika thought of including us." Erika Alexander will use the entire day of the 6th to highlight initiatives and people around the country that are advancing Black communities. This will include conversations with Reverend William Barber of the Poor People's Campaign, and Congresswoman Sheila Jackson Lee.
#TEAMDOTTINHALEY created the #BLAIRISMS in 2016 with the intention of spreading messages of inspiration, laughter and personal reflection. The brand is known for sharp and clever sayings, but also for celebrating Black culture and the impact Black people have on global culture at-large. Erika Alexander calls the #BLAIRISMS team #BrandActivists because of the passion and commitment the two have made to using their brand to be agents of change. "As married Black, gay men and partners in entrepreneurship, we thrive at the intersection of politics and commerce, and embrace the challenges and joys of being who we are in a world that far too often devalues Black queer life." said Blair Dottin-Haley, creator and namesake of the #BLAIRISMS brand.
Throughout the day, Erika will promote different Black owned businesses, including the #BLAIRISMS. The day will culminate in a live discussion of the state of entrepreneurship in the Black community with the #BLAIRISMS creators, Blair and Brandon Dottin-Haley. Don't miss this pivotal moment for the #BLAIRISMS brand as they go live on IG with "Hillary Rodham Clinton" and Erika Alexander . Be sure to follow @HillaryClinton, @erikaalexanderthegreat and @the.blairisms on Instagram.
---