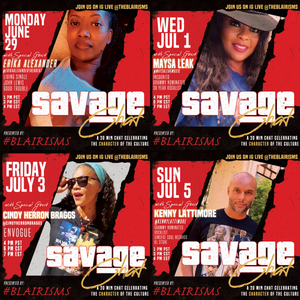 #SAVAGECHATSERIES
Savage chat Series
If you haven't tuned in to the #SAVAGECHATSERIES, you are missing out! The Blairisms team packs so much joy and laughter and inspiration into these chats that they are a must see for everyone. They are good for the soul and in this time, these chats provide a space to reflect, and a chance to laugh and decompress.
Blair and Brandon are sitting down with cultural icons to talk about what is going on in the world, and how they are navigating the times. The chats are filled with people sharing a little wisdom for us all to enjoy and be better.
For the first #SAVAGECHAT, the Blairisms team sat down with actor and writer Sheaun McKinney. Sheaun stars in The Neighborhood, alongside comedic legends Cedric the Entertainer and Tichina Arnold. New Orleans native, and family to the #BLAIRISMS, Marcel Spears also co-stars alongside Sheaun. He spoke to how incredible the experience is working with such seasoned actors and that there is also no doubt when Tichina is on set. Sheaun spoke to his passion for the stage and remarked that one of his most memorable moments in his career came from an exchange with a young man following a community theater performance.
Erika Alexander, the #SAVAGE herself, also blessed the #SAVAGECHATSERIES and dropped some gems for that ass! Whew! Her chat was absolutely amazing to say the very least. Then there's the fact that she has not aged a day since running for Alderwoman almost 30 years ago on the iconic show #LIVINGSINGLE. Erika Alexander's chat was a master class and she let us all know what she has been up to at Color Farm Media to advance the stories of Black people. Check out the first feature length documentary from her production studio, John Lewis: Good Trouble, available now on streaming platforms.
Another SAVAGE to join grace the #SAVAGECHATSERIES was R&B songstress, Maysa Leak. The Baltimore native, who blesses thousands every week with live performances in her #KITCHENKARAOKE series, talked about the struggles and joys of being in the business for over 25 years. She even surprised us with an "impromptu" live performance.
And then there was Cindy). Cindy, Cindy, Cindy. En Vogue is by far one of the most iconic R&B girl groups of all time and Cindy Herron-Braggs has been blessing the group's fans with her stunning beauty and angelic vocals for 30 years. She sat down with the #BLAIRISMS to share some of her wisdom and tips to basically stop the aging process in it's tracks. If you didn't catch her #SAVAGECHATSERIES, then you should definitely take the time to watch.
Kenny Lattimore and his new bride, Judge Faith Jenkins also joined the #SAVAGECHATSERIES to talk about the joys of a new marriage in the time of COVID-19. This was their FIRST time on IG live together and the chat featured some singing, and a peak at the new #BLAIRISMS designs for Kenny's merchandise line at TheKLStore.com. Kenny even shared a very personal experience that recently happened with his teenage son, KJ, that reminds us all of the need to end systemic racism and call out dangerous implicit biases.
The #SAVAGECHATSERIES was also blessed to sit down with Mykal Kilgore, Broadway actor and NAACP image award nominated singer/songwriter. Mykal is a testament to the power of talent and perseverance. Many became familiar with the amazing singer from his viral "Reclaiming My Time" video. Since then, he has gone on to tour with India Arie, and appeared in the NBC live musical, Jesus Christ Superstar.
Dr. Yaba Blay graced the  #SAVAGECHATSERIES with her beautiful smile, infectious laughter and brilliant intellect. She is a scholar, activist, documentarian and the force behind ProfessionalBlackGirl and the movement IAmPrettyPeriod. Her work focuses on centering Blackness as a way of life and de-centering white supremacy and white supremacist ideology so that Black people can thrive in their fullness and beauty.
 Stay tuned for more #SAVAGECHATS with your favorite actors, singers, writers, activists, educators, and all of the other ways our people show up as SAVAGES in the community. The #SAVAGECHATSERIES is just getting started and the #BLAIRISMS will soon be joined by Emmy winner and Broadway actor Antoine L. Smith, and our dear friend and brother, comedic trailblazer Sampson McCormick.
Check out all of the #SAVAGECHATSERIES on the #BLAIRISMS IGTV.
---
4 comments