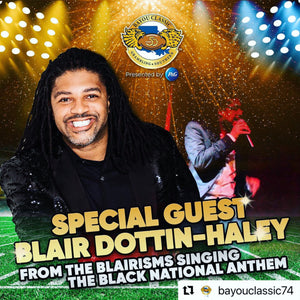 Singing Anthem Will Be Full Circle Moment For Grandson of Civil Rights Activist
Tuesday, October 24, 2023
For the first time since its inaugural event 50 years ago, the Bayou Classic football game will feature a performance of "Lift Every Voice and Sing", the Black national anthem, performed by New Orleans native, Blair Dottin-Haley. The Bayou Classic, a football game between Southern University and Grambling State University, two Louisiana-based Historically Black Colleges and Universities (HBCUs), is celebrating its 50th anniversary this year and will be televised nationally on Saturday, November 25th, 2023 from the Caesars Superdome in New Orleans, LA.
Blair carries an extraordinary lineage, as the grandson of Oretha Castle Haley, noted civil rights activist and distinguished Southern alumnus. In his current work, he is described as a Brand Activist, for the ways he uses the #BLAIRISMS brand as a vehicle for promoting social justice. As a singer, Blair's talents have graced stages all over the world, from New Orleans, to New York, Lisbon and Las Vegas. "I'm extremely grateful for this opportunity," Blair stated while preparing for the performance with his long time friend and musician, Davell Crawford. He continued, "This feels like the ancestors are aligning, because 'Lift Every Voice' was one of the first songs I ever learned. My grandmother [Oretha] and I used to play a game, where I'd check the lyrics on printed programs at events we'd attend together."
For Blair, the history making moment of singing the Black national anthem for the first time at what is essentially the Super Bowl for HBCUs, feels appropriate and he says that he's more than ready to give the crowd an experience they won't soon forget.
The historic game will be the culminating match in a series of events, including the famous Battle of the Bands. Bayou Classic  has dominated the New Orleans Thanksgiving weekend for decades and continues to draw over a hundred thousand visitors to the city each year.  More than 1 million viewers watched the game from around the country in 2022.
For those interested in catching Blair perform a full concert, he will be featured in the Dodwell House's Down in Treme series on November 7th. The fundraising concert is an effort to support Anna's Place, an after school program located at 1519 Esplanade Ave. Blair will also be headlining his own concert at Xavier University on Lundi Gras, February 12, 2024, with special guest Kenny Lattimore.
Click here for more details about Blair, The Blairisms, and other upcoming performances.
---