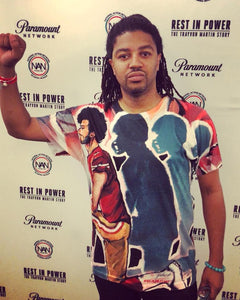 THE KAEPERNICK PROTEST COLLECTION
Violence against Black people is woven into the fabric of America. It was founded, built, and thrives because of it.

Being an activist in the face of that violence can mean something different for each and every one of us. How and when we each choose to join pursuits that are bigger than ourselves, for the betterment of our children's future is a personal journey that is never traveled alone.

When we created the BLAIRISMS, we decided that our goal would be to give the resistance movement an extra voice. We wanted yto give our community a way to rest their voices and instead "say it wit' ya chest."

We know that our efforts in support of the Resistance movement are joined by people all over the world. We're doing our best to carry the torch handed to us by our ancestors like Oretha Castle Haley, James Baldwin, Fannie Lou Hamer, and Bayard Rustin. We carry their burdens along side our brothers and sisters like Colin Kaepernick, April Ryan, Tarana Burke, and Sybrina Fulton.

When he sat down during the first 3 pre-season games in 2016, Kaepernick brought the atrocities of institutional violence front and center in an arena that would rather keep Black men silent and concussed. He very clearly and directly stated his purpose:


"I'm going to continue to stand with the people that are being oppressed. To me, this is something that has to change.

"This stand wasn't for me. This is because I'm seeing things happen to people that don't have a voice, people that don't have a platform to talk and have their voices heard, and effect change."

His message was derailed into a conversation about disrespect towards the men and women of the armed forces.

It was September 1st, 2016 when Kaepernick took a knee for the first time during the anthem and was joined by teammate Eric Reid, sparking a national debate about patriotism, racism, violence and this country's long history of injustice and hypocrisy.

The BLAIRISMS was created later that year, and soon included a RESISTANCE collection, which launched Inaugural weekend. The collection has grown from the outright confrontational to include designs that celebrate the heroes and sheroes of the movement.

For over a year, Blair has envisioned a design in support of the silent, but remarkably powerful protest, which has remained an integral part of the conversation on institutional racism. As the NFL, with each team to varying degrees, formally institutes penalties against players that refuse to participate in the anthem, either by kneeling or staying in the locker room, now is a crucial time to show support for justice, equality and our brother in the fight, Colin Kaepernick.

Literally a piece of art, the KAEPERNICK RESISTANCE DESIGN features the BLAIRISMS first artist-drawn collaboration inspired by Colin's courage and activism and the lives of our brothers and sisters lost to police brutality, gun violence and/or refused justice by an inherently racist system.

ABOUT THE ARTIST:
We were introduced to Natalia B., an incredibly gifted graphic artist and designer, by her parents, Glenn Braggs, member of the 1990 Cincinnati Reds, World Series Championship team, and Cindy Heron-Braggs, member of the iconic, award winning girl group, En Vogue.

A family that personifies Black Excellence, Glenn and Cindy raved about Natalia's work and when she showed us some of her sketches, Blair immediately knew that she was the one to bring his vision to life.

We were honored that Natalia was willing to use her talents to capture Blair's design idea, but he wanted the piece to have as much her voice as an artist and creative.

We were humbled when we saw her work. The distant and piercing gaze in the eyes is haunting. He's shrouded in a tattered flag, dripping with names that should never be forgotten. Whether taking a knee or facing the world head on, he is not alone.

Natalia's digital drawing captures the spirit and strength of the protest and the pieces that have been created make it easy for anyone to be clear where they stand in the fight.

We've been blessed to have amazingly talented individuals share their abilities with our brand and through collaborative efforts. We've created something to encourage everyone to pursue their passion and always live with courage, humility, joy, integrity, and authenticity. 
KAEPERNICK PROTEST DESIGN ARTIST'S STATEMENT:
"It feels surreal to be part of a movement that is so relevant and so monumental in our modern society! I always knew that I wanted to make art that others could relate to and appreciate, but never had I imagined that I would be given the opportunity to reach such a wide audience and help make a powerful statement about the relentless racial injustices against black citizens in America. In the process of creating the Kaepernick artwork, I really learned a lot and I am very appreciative of the constant patience and support that I've received along the way. Always and forever, I will be grateful for this opportunity to work with Blair and help him to bring his vision to reality! ✊🏽✊🏾✊🏿"
-Natalia B.
CHECK OUT THE FULL COLLECTION HERE: 
https://theblairisms.com/collections/the-resistance/Kaepernick-Protest
---
1 comment